UN-Belize-ABLE: Jewel of The Caribbean A Romantic gateway For The Adventurous
Toronto Sun
The Lodge at Jaguar Reef, a chic beach resort with 24 villas and suites on the edge of the quaint Garifuna fishing village of Hopkins, is the place to stay if you want to treat yourself.
Feathers and Goldbear
At the end of the little Caribbean village of Hopkins, this little gem of a resort deserves a mention. With direct ocean access, a private beach, a dock with a onsite bar and a restaurant that has a seperate vegetarian menu with loads of vegan options this place is heaven on earth.
Recharge The New year With The Belize Collection's Now or never Solo package
Caribbean Culture + Lifestyle
As the world kicks back into high gear after a tumultuous last couple of years, self-care is sought-after now more than ever. Where we crave just one tranquil night in with a cup of wine, or maybe an early morning hike with breathtaking views. All to restore the imbalance we may face in our work, home, or personal lives. 
Belize: Exploring The Main Land
Drift Travel
From the costal villages of Placencia and Hopkins, to the depths of the jungle at Sleeping Giant, Belize's mainland is filled with many adventurous treasures. Proudly protected by locals as an eco-first country, the unspoiled destination boasts a landscape with distictive ecosystem, ample with boidiversity and vast green space. – READ MORE ON PAGE 51
enRoute
Why enjoy an unspoiled view from afar when you can be immersed in it. Located at the edge of a 10,00- acre reserve, and on 600 acres of its own this 31-room boutique hotel offers a variety of different hyper-private accommodations woven into the natural landscape.
almond beach resort - luxury boutique resort in belize
Jenn Explores
Almond Beach Resort is definitely not one of those resorts where every room looks the same. Their attention to detail in creating unique, special accommodation types is one of my favorite things about the resort. And can we talk about one of the most gorgeous, relaxing, fun over-water bars ever?!
Sleeping Giant Rain Forest Lodge - Romantic jungle gateway in Belize
Jenn Explores
A definite highlight to our 2022 honeymoon in Belize was our visit to Sleeping Giant Rainforest Lodge. We stayed at Sleeping Giant during the start of the rainy season (June), and we indeed received a LOT of rain during our visit, but honestly, it was perfect – because once we arrived at the resort, we didn't want to leave! The weather was perfect for cuddling up in our gorgeous suite and enjoying the (covered) outdoor plunge pool. What a view!
The Perfect Belize Itinerary: 7 Days with the Belize Collection
Travel Worth Telling
The Belize Collection is an award-winning boutique resort group with properties in some of the country's most desired locations, all of which are absolutely stunning. They offer luxurious amenities, privacy, and a warm and welcoming staff. The Belize Collection prides itself on providing its guests with an excellent vacation experience and can arrange a variety of activities for you.
Our 10 Favorite Excursions To Do In Belize
Travel Noire
Recently, my boyfriend Joe and I were able to spend five days in the tropical Central America country of Belize. This was my first time traveling outside of the United States, and I was full of excitement as the plane landed at Phillip S.W. International Airport and we walked down the steps and off the runway.
Black Girl Explores Belize On First International Trip
Travel Noire
Before going to Belize in June 2022, I had put off getting my passport for years. Ever since I was a little girl, I'd fantasized about traveling abroad. When I went to college, I had plans to study internationally and had all of these expansive ideas about being a political analyst and covering international stories around the world. 
Why Couples Are Flocking To Belize To Say 'I Do' - Exclusive
The List
After having to put weddings on hold due to living through the COVID-19 pandemic, couples are now ready to say I do in record numbers. In fact, The Wedding Report has estimated that 2.5 million weddings will take place in 2022, the highest number the U.S. has seen since 1984. And after almost two years of elopements and micro-weddings, couples want to go big when it comes to their special day. A recent survey by David's Bridal (via Destination I Do) found that 55% of respondents plan to pull off a destination wedding instead of staying local.
Read More: https://www.thelist.com/964278/why-couples-are-flocking-to-belize-to-say-i-do-exclusive/?utm_campaign=clip
Belize Collection To Launch New Luxury Villas In The Jewel Of The Caribbean
Travel Noire
Good news for those who love Belize; one of the most favorite destinations in the world – and want to experience a luxury environment while visiting the country. The Belize Collection has announced the debut of new luxury villas at its Jaguar Reef property. It is scheduled to be opened this fall. Bookings are open for travel starting November 15, 2022.
The Travel Guide: Discover Belize
The Travel Guide Worldwide Travel
Ever heard of Belize? This small tropical country is surrounded by the Caribbean Sea to the east. Mexico to the north and Guatemala to the west and south. Belize is a member of both the Caribbean and Central American communities. Known for being a melting pot of cultures, English is the primary language used throughout the country followed by its unique dialect called Creole, which is a treat for travellers passing through the region. Golden beaches, crystal-clear waters, lush rainforests and mountainous ranges make up the terrain of a country less than quarter of the size of England. 
The Belize Collection+ Weddings In Paradise
The Style Bouquet
The Belize Collection is a premier boutique resort group with a focus on sharing the culture of Belize with guests from around the world. The resorts use Belizean-made furniture and spa products, hire local Belizeans, embrace the Mayan history, food and culture to deliver the most authentic travel experience to guests. The Belize Collection resorts are located in breathtaking areas of Belize, featuring acres of rainforest, pristine beaches and more. For more information on The Belize Collection, visit thebelizecollection.com or follow on Facebook and Instagram.
How Natalie Mariduena Went From David Dobrik's Assistant to Sports Illustrated Model
LA MAg
This year, the 25-year-old got an opportunity to travel to Belize to be photographed at The Sleeping Giant Rainforest Lodge. Mariduena still feels "honored" when she looks at the final image, and hopes her female empowerment voice shines through. 
The Belize Collection To Launch New Residences This Fall
Travel Agent Central
The Belize Collection has announced the debut of new luxury villas at its Jaguar Reef property this fall. The Condos at Jaguar Reef offer vacationers a taste of Caribbean beachfront living in Hopkins, Belize. Bookings are open for travel starting November 15, 2022.
Belize beyond the Blue Hole
Independent Premium
The one question everyone asked when I mentioned I was going to Belize? When (not if) I'd visit the Blue Hole, as if it was inconceivable I'd leave without checking out its famous dive site. In reality, the spots I had my eye on were ones most people I spoke to hadn't heard of: Xunantunich, a Mayan archaeological site with plaster friezes, and the so-called Ceremonial Cave – an enormous cavern filled with evidence of human sacrifice.
SI Swimsuit 2022 Destinations: Belize
Sports Illistrated Swimsuit
Belize is a remarkable paradise full of beaches, toucans, and some of the best scuba and snorkeling in the world! Between jungles, lagoons and desolate islands with stunning waters, agriculture and wildlife, you will have plenty to explore on your trip to Belize. The 2022 Swimsuit Issue featured models Kate Bock, Hunter McGrady, Jasmine Sanders, Leyna Bloom and Natalie Mariduena, all photographed in Belize.
How to make belize vacation planning a breeze.
Travel Pulse
Planning a trip to Belize? Dig into the details, and you'll soon uncover an array of challenges that make visiting this Central American nation — and getting the full experience — more complicated than it seems.

Read more on how the Belize Collection can make your vacation planning a breeze!
Complete immersion in Belize
City A.M.
The Sleeping Giant Rainforest Lodge in Blue Hole National Park is a dream for any budding Indiana Jones'. A handful of wooden cottages dotted through the jungle without TV, WiFi or phone signal, it's a blissful retreat from reality where outdoor baths are shaded by banana trees, hammocks swing by gurgling creeks and peacocks prowl the grounds. There's even a poolside rum shack so you don't miss out on a bit of holiday indulgence. Though really, you're unlikely to spend much time sipping cocktails.
Sleeping Giant Rainforest Lodge: A Date with Mother Nature.
Luxuriate Life
The sleeping giant rock formation in the Maya Mountains in Belize looms over the valley of the Sibun River and its here that Sleeping Giant Rainforest Lodge sits at the foothills of the mountains. The giant is an ancient, constant and commanding presence ordering rest and serenity and the Sleeping Giant Rainforest Lodge rises to the challenge, creating an unparalleled experience deep in the Belizean rainforest.
Read more on how the Belize Collection can make your vacation planning a breeze!
19 Caribbean All-Inclusive Resorts with the Finest Dining
MSN Hit

Sleeping Giant Rainforest Lodge is located in the lush jungles of Belize, and guests can book an array of all-inclusive vacation packages that pair stays with other properties in The Belize Collection. This hotel features stunning views in a natural setting, along with fine dining options at The Grove House, which was named Restaurant of the Year in 2018 and 2019 by the Belize Tourism Board. Popular dishes include BBQ pig tail, carne asada, and butcher's cup rib chops, to name a few delicacies you can enjoy.
Rainforests, Maya Ruins & Beautiful Beaches
USA Today
All that adventure means that having a comfortable place to restore your energy is very important. If you're looking for an entire package of accommodations and experiences, there are a number of eco-lodges that cater to adventure travelers. These properties specialize in providing guests an authentic experience just slightly off the beaten path
The Complete Guide to Planning a Destination Wedding in Belize
The Knot

If you desire a tropical locale that's a bit more off-the-beaten-path over, say, the usual Caribbean experience, a Belize destination wedding beckons. Belize, a Central American country on the Caribbean sea, features an incredible range of terrain and gorgeous beaches. Belize is known for its exclusive private islands, Mayan ruins and vibrant and rich snorkeling options.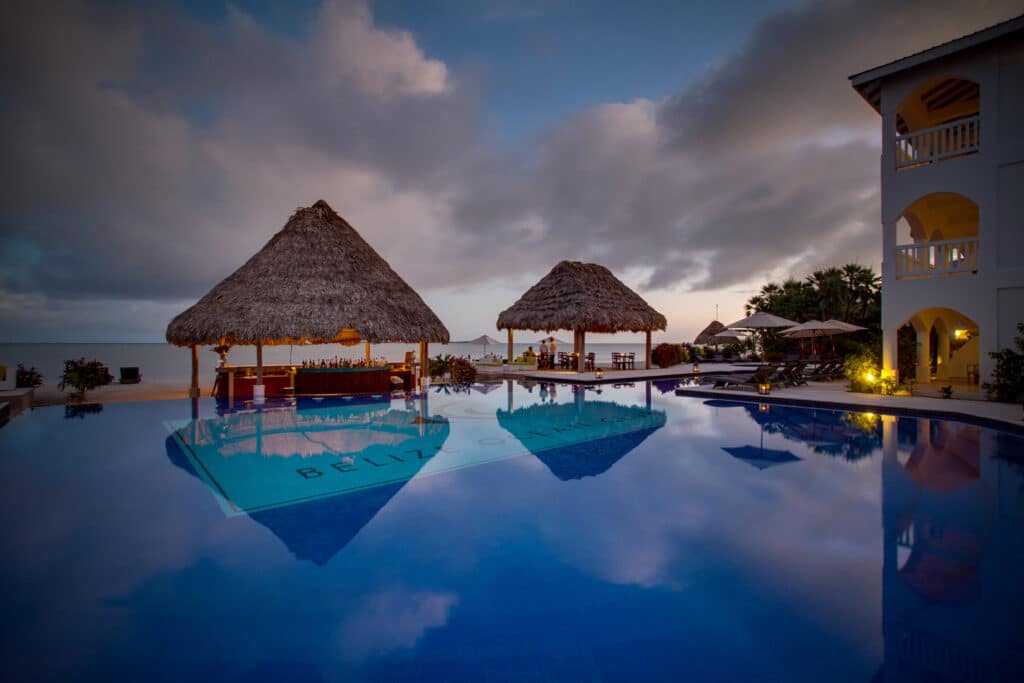 The Belize Collection Adds Umaya Resort to its Portfolio.
Travel Agent Central
The Belize Collection, Belize's premier boutique resort group focused on authentic Belizean experiences, recently added Umaya Resort located on Maya Beach in Placencia to its growing portfolio.
Better Belize it - You don't have to choose between surf or turf fun
New York Post:
In the town of Hopkins, Jaguar Reef, for instance, offers swish rooms with private plunge pools, an airy open restaurant, a stunning overwater bar (the national drink is an evocative little cocktail called the "Panty Dropper") and activities (if you must) galore. Suites with private plunge pools start at $399.
Read More Here: